Today we want to show you step by step method on how you can Advertise on Waploaded website, and track your adverts stats, pause your advertising campaign and also delete completed adverts.
How to Place Adverts on Waploaded
Step 1: Registering an Account on Waploaded
To be able to place advertise on Waploaded, you need to first have a Waploaded Account by simply Register an Account or login to an already existing account. You can find more tutorial on How to register for a Waploaded Account successfully.
Step 2: Fund your Waploaded Wallet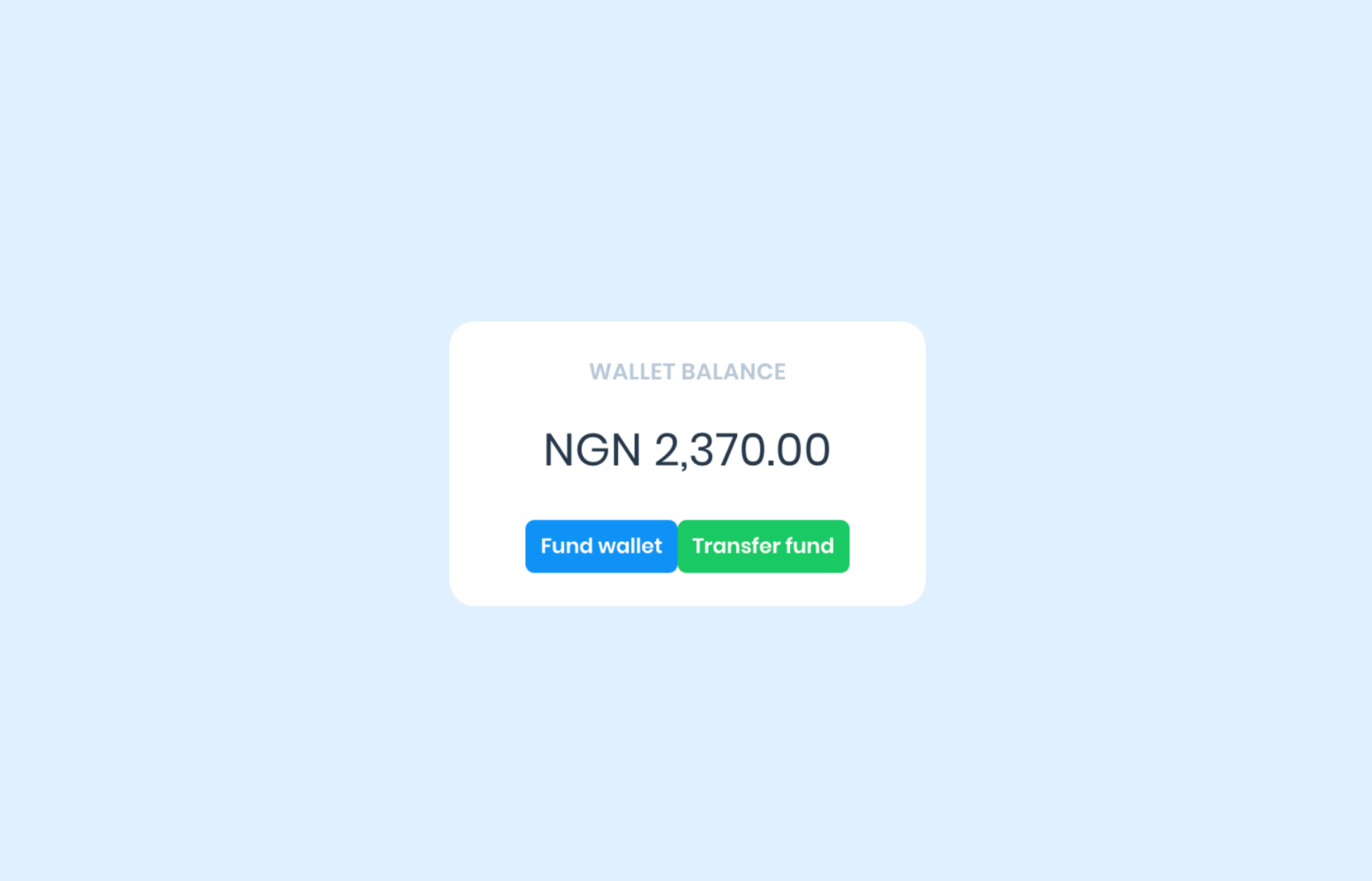 You may need to fund your wallet with your debit card, and the limit you can fund as as writing this tutorial is NGN 5,000 which is almost equivalent to $50. The payment systems accepts several bank card and countries and charges NGN value depending on the currency.
In the nearest future, we would be adding more ways to fund your account for various international clients, for the now, you may contact admin via ads@waploaded.com to offer you more flexible payment options after paying, the value would be credited to your account.
In the meanwhile, Learn how to fund your Waploaded Wallet here.
Step 3: Posting Your adverts
You will not be able to place adverts on Waploaded if your wallet balance is low, and there is no limit to your ad budget. You can place ads as low as NGN 1000 equivalent to $3 or even lower, but the time of completion of the ads and the amount of clicks depends on several factors including amount of budget, the adslots targeted and many more.
Click / Hoover the "Adverts" Menu, then click on Place new Adverts

The Place new advert form, allows you to select strategic positions for your adverts and see where & how they will appear.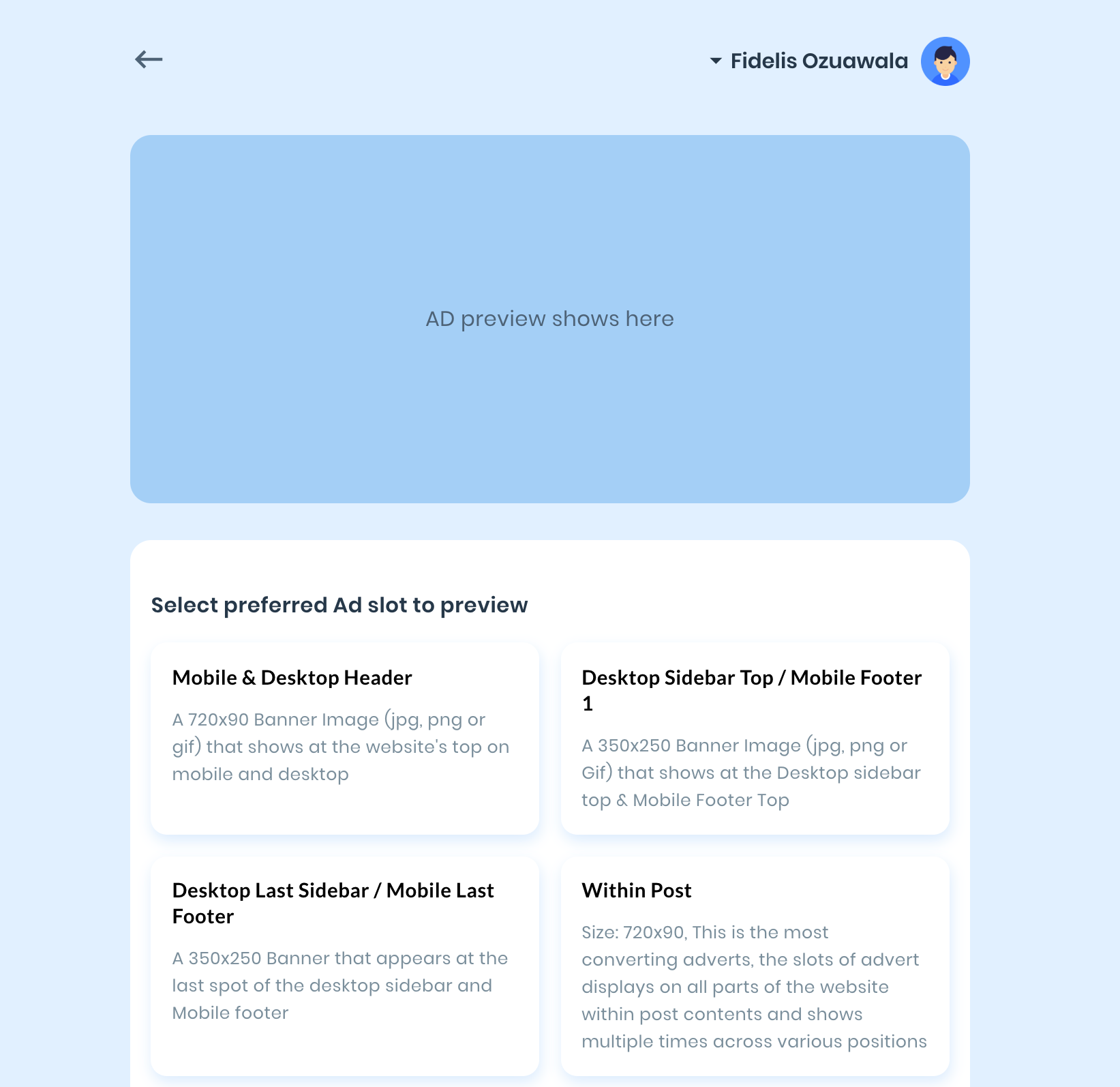 On selecting the preferred Adslots, it will tell you the prices per clicks and Impressions.

NOTE: The value in the documentation may vary, and it's subject to changes at our will according to terms.
Let's select the Mobile & Desktop Header which happens to be one of the most converting ad-slots after the bottom sticky-footer popularly called Catfish.
Note: You can target unlimited ads to a certain spot, e.g several ads placed can target the mobile header, our system will rotate the ads to various users and you can always try other positions and units checking your stats to see which works best.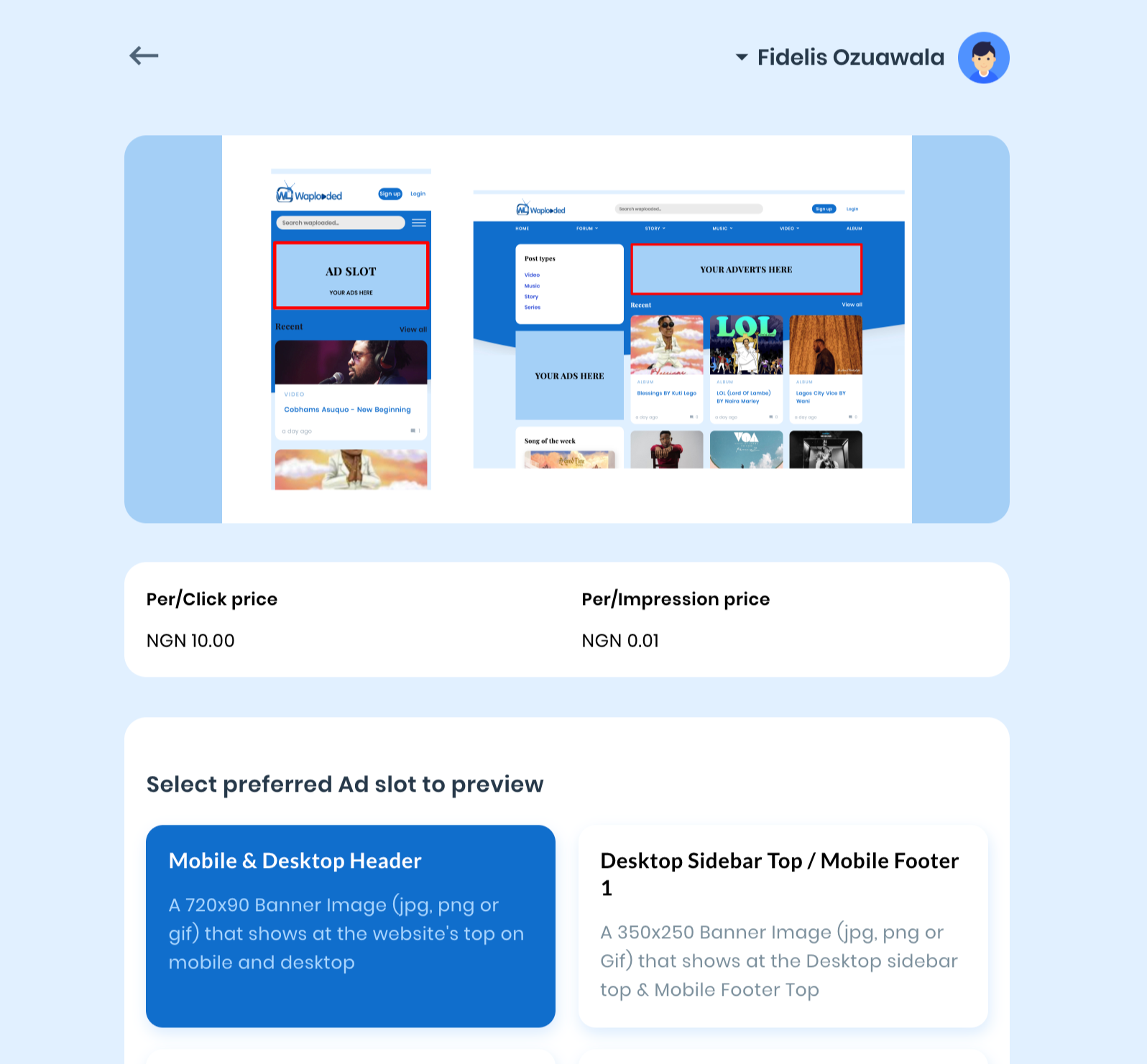 After selecting the ad-position, you are to fill the form for the adverts.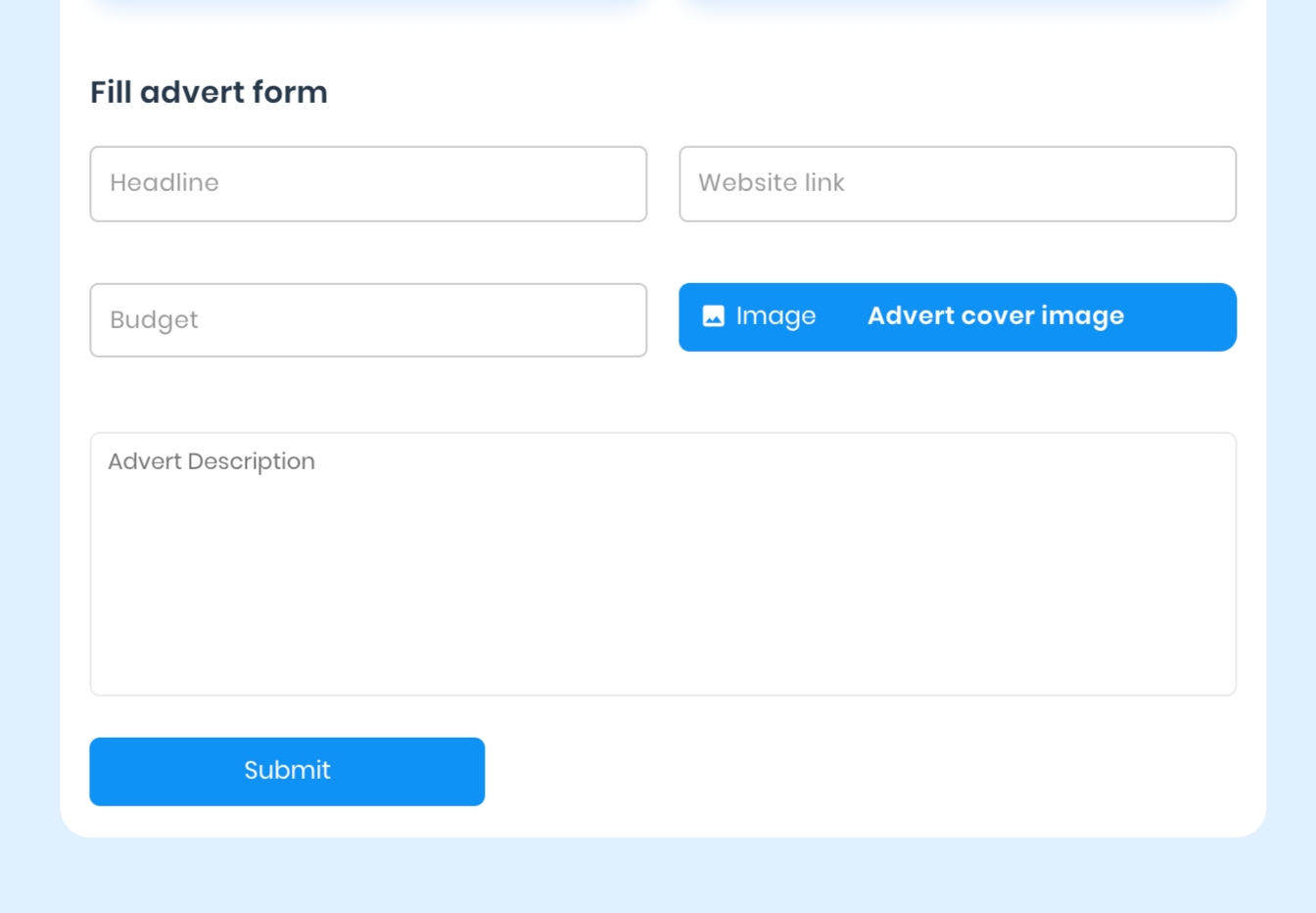 This is an Explanation of the Advert form.
Headline: The title of Your ads for easy identification e.g "Lead for Mobile Betting", you may even add the slot name to the heading.

Budget: The amount you would want to spend on this ad e.g 1000, not the higher the budget the longer it runs, an expired ad would need to be recreated to continue running.

Website Link: The landing page of the ad, be sure to add "https://" e.g https://www.waploaded.com/docs/legal make sure to confirm the validity of link before submitting

Image: While selecting the Ad-position, there is a description telling you the type of ads and the size of banner. It is usually 300x250 or 720x90 depending on the Ad-slot

Advert Description: This is just a description to help you understand the Ad Headline.
After filling the form, go ahead and hit submit, that is how to place an ad on Waploaded.com.
Then your ad would be awaiting manual verification from admins, this may take 30mins to 5 hours depending on the time of the day the ads was placed.
How to Monitor your Ads Stats
Once your Ads are approved, it would move from Pending Adverts to a section called Active Adverts.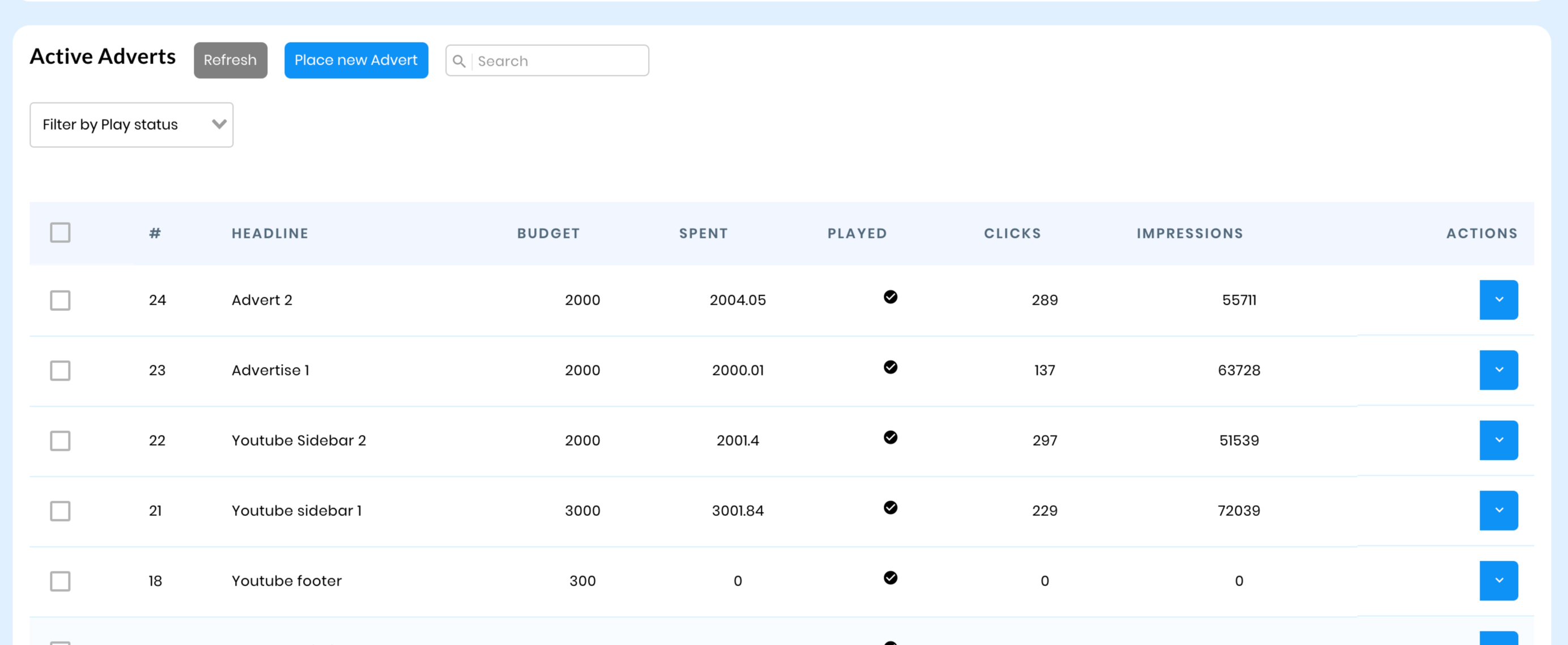 You can from the Active Adverts page do several stuffs like:
Filter Ads by status (Paused or Running Adverts)

View Stats (Clicks & Impressions) of a Select Ads

Pause a Running Advert / Play an Already pause Advert

Delete an Advert
Note: We are currently working on more features for the Advert panel, this will give you more control of certain stats and general control over your advert running.
If you need support or have questions or wish to learn more, kindly forward an email to ads@waploaded.com we will be most glad to support you through placing your first ad, or solving issues relating to your ad.