AAUA Acceptance Fee Payment Procedure, 2018/2019
Diala
Nov 27, 2018 (
Post 1
)
AAUA Acceptance fee payment procedure for 2018/2019 session has commenced. All candidates admitted in to Adekunle Ajasin University for the 2018/2019 academic session can now proceed to pay their acceptance fees. The acceptance fee amount is N21,000. The procedure to pay AAUA acceptance fee for the 2018/2019 session is as stated below;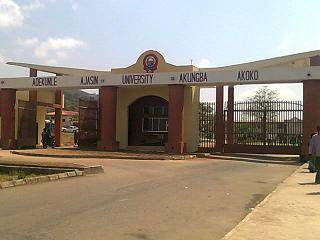 How To Pay AAUA Acceptance Fee
AAUA Acceptance Fee Payment Procedure, 2018/2019
Step 1.
Check your Admission Status by clicking on Admission Status button on the portal landing page OR on the portal landing page, goto Quick Links->Admission Status->Check Admission Status


Step 2.
Supply your UTME/DE Registration Number and click on Submit button.If you have been offered admission, a popup window will be displayed with a congratulatory message, your admission details and the details of how you will fill the teller when you get to the bank to make your acceptanace fees payment


Step 3.
Visit any bank nationwide that is closer to you, obtain the teller and fill the teller as instructed in Step 2 above and tell the cashier or the teller that you want to make payment for Adekunle Ajasin University, Akungba Acceptance fees on eTranzact Platform. After payment, make sure you wait and collect your eTranzact Payment Receipt.This is important as it is your access to printing your admission letter.


Step 4.
After obtaining your eTranzact payment receipt, you will go online again and Confirm the Acceptance Fees Payment you have made in the bank. This is necessary as to ensure that you are the real owner of the eTranzact Payment Receipt. To confirm the acceptance, click on Quick Links->Acceptance Fee Payment->Confirm Acceptance Fees. On the Acceptance Fees Confirmation page, Supply your UTME/DE Registration Number and the Confirmation Order Number on your eTranzact Payment Receipt you obtained from the bank and click on Submit button to confirm your acceptance fees payment.Once successful, you will be redirected to the page where you will be able to print your admission letter.

Step 5.
On the Admission Letter page, supply your UTME/DE Registration Number and click on Submit to view and print you Interim Admission Letter
NOTE: If you do not confirm your acceptance fees payment online successfully, you will not be able to view and print your admission letter and it also means that you have not paid at all for the acceptance fees and you will not be able to further your registration online.
HOW TO FILL YOUR TELLER
If you have been offered admission in the faculty of LAW or faculty of SCIENCE or faculty of ARTS or faculty of EDUCATION or SOCIAL AND MANAGEMENT SCIENCES, the name of your faculty will be added to the payment type you want to make. On your teller, you will write bodly the payment type you are making followed by your faculty name. See sample below
ACCEPTANCE-SCIENCE
CHEMISTRY
35657890JH
ADEOLU ADEKOLA PHILIPS
#21,000.00
Interpretation
ACCEPTANCE-SCIENCE is the acceptance fees payment type based of student's Faculty of study
CHEMISTRY is the student's Course of study
35657890JH is the student's UTME/DE Registration Number
ADEOLU ADEKOLA PHILIPS is the student's Full Name
#21,000.00 is the amount student will pay at the bank. This amount is the same for all course of studies.
1 1 Total