Man Sentenced To 6 months Imprisonment For Stealing Household Items In Ogun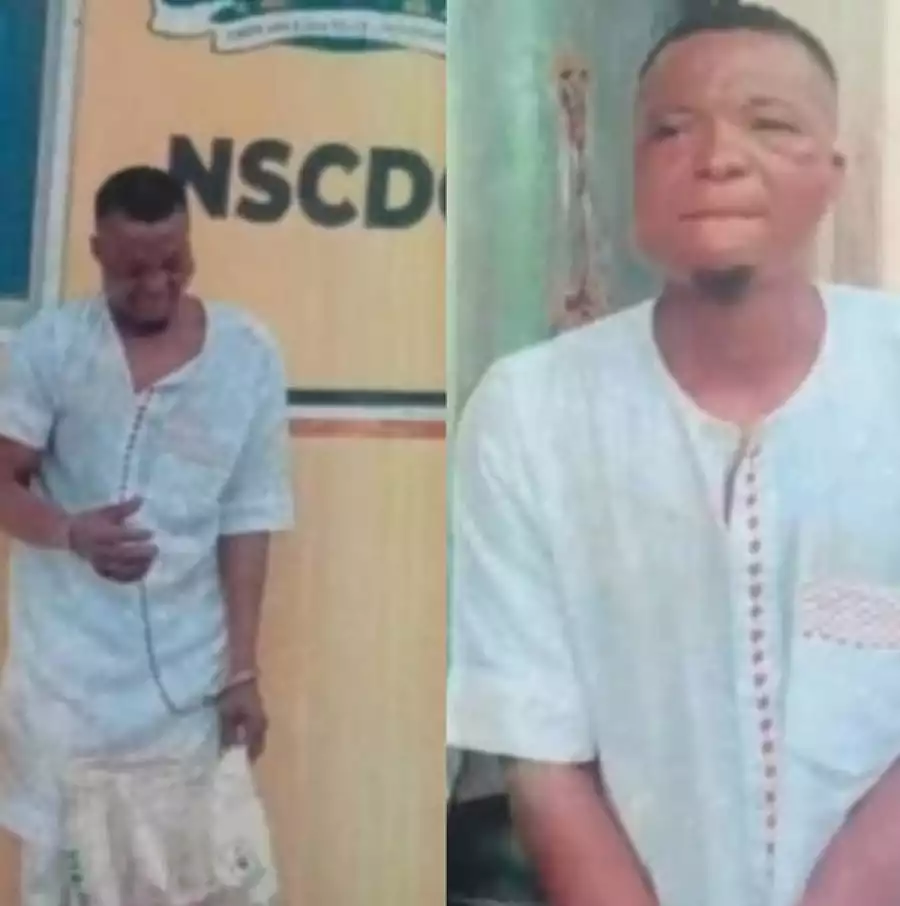 A 40-year-old man, Kolajo Damilare has been sentenced to six months imprisonment by an Ogun State Magistrates' Court sitting in Isabo Abeokuta for stealing household items.

Damilare, who stole a stabilizer, refrigerator evaporator, "D" irons and halogen security lamp, was also given an option of N150,000 fine.

Damilare was arraigned by the Nigeria Security and Civil Defence Corps (NSCDC), Ogun State Command on a one-count charge of stealing household appliances in Liberty Estate via Bode Olude, Abeokuta area of the state.

He was arraigned by the Ogun NSCDC for stealing the home appliances belonging to one Razaq Salaudeen in Liberty Estate via Bode-Olude, Abeokuta, Ogun State.
According to a statement from the state command of the NSCDC, the convict was arrested on Wednesday, November 15, 2023, around 11. 00 a.m. by officers of the NSCDC Opeji Division while on routine surveillance patrol at the Bode Olude area.

"It was established that Kolajo Damilare made his way into the compound of Mr Razaq Salaudeen to carry out the dastardly act. He vandalized the refrigerator and removed the evaporator, carried the stabilizer and also removed the Security light and he was about leaving the compound when he was caught in the act.

"He was in the process of being mobbed when the attention of the NSCDC officers on Surveillance Patrol was called and he was handed over to the NSCDC for investigation and prosecution. He was then transferred to the State Headquarters.

"The suspect, Kolajo Damilare, had upon thorough investigation confessed to having committed the crime. Immediately, the state commandant NSCDC Ogun State command, CC. David Idowu Ojelabi mni, fspsp, gave the directive that he should be charged to court within a reasonable time."

Damilare Kolajo was then charged to Abeokuta Magistrate Court 1 on Friday, November 17, 2023, backed by a Fiat by the Attorney General of Ogun State empowering the NSCDC to prosecute in the court.

"Exhibits and facts were presented before the Court and the arraigned suspect pleaded guilty to the one count charge bordering on stealing.

"He was therefore sentenced to six months imprisonment/fine of #150, 000 by Magistrate E. O Idowu (Chief Magistrate)."

The State Commandant, David Idowu Ojelabi, enjoined members of the public to be vigilant. He reiterates his commitment as the NSCDC Commandant of Ogun State to nip crime in the bud, stamp out crime and ensure adequate defence of the civil populace within the state.

He also solicited credible information from members of the public that will help NSCDC to ensure adequate protection of critical national assets and Infrastructure as well as the defence of the human populace and their properties.
"Don't sit on the fence, join hands with civil defence," he said.