Navy Seizes 50 Sacks Of Cannabis Valued At N70 Million In Badagry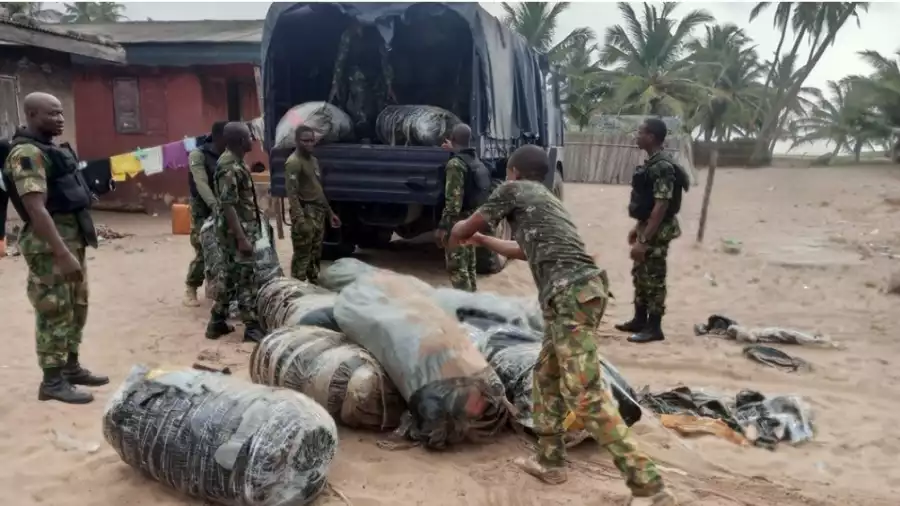 On Sunday, November 19, the Nigerian Navy's Forward Operating Base (FOB) in Badagry, Lagos, seized 50 sacks of cannabis sativa valued at N70 million from the Gbethrome neighbourhood.
According to Lt.Commander Kelly Umoru, FOB Base Operations Officer, the goods were taken by staff from an unfinished building close to the beach at approximately 6.30am.
Umoru said the navy agents took action in response to a tip-off on the whereabouts of alleged smugglers in the region.
"You will recall that on Nov.9, 2023, the Flag Officer Commanding, Western Navy Command Operations, Rear Admiral Mustapha Hussain flagged off an operation codenamed ' Water Guard' line with the Chief of Naval Staff's directive..

"FOB Badagry on Sunday, Nov.19, acting on credible human intelligence, stormed Gbethrome and discovered 50 sacks of suspected cannabis sativa stored in an abandoned building near the beach.

"Each of the sacks contains about 200 parcels. The market value of the items is N70 million," he said.
Umoru promised to give the goods to the relevant organisation to take the required steps.
Recall that the Nigerian Navy in Badagry handed over to the National Drug Law Enforcement Agency (NDLEA) 27 sacks of cannabis sativa valued at N35 million on October 4.
The FOB Commanding Officer, Navy Capt. Aiwuyor Adams-Aliu said the objects were taken by agents on September 29 at Pako Beach in Badagry.