EFCC Gives Insight Into Altercation With NAF Officers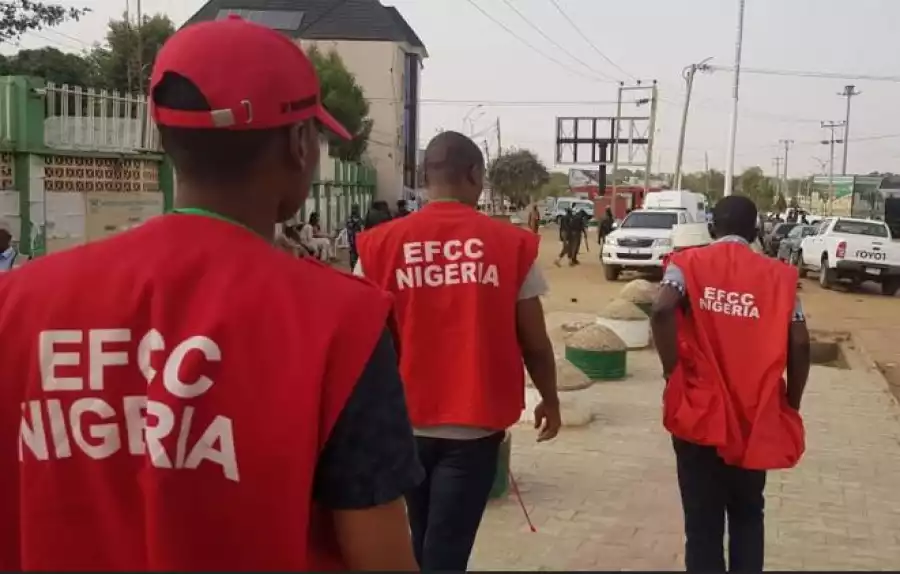 Nigeria's anti-graft agency, the Economic and Financial Crimes Commission (EFCC) has provided clarification regarding the conflict between its operatives at the Kaduna Zonal Command and the officers of the Nigeria Air Force (NAF).
In a statement on Friday, the EFCC Head of Media and Publicity, Dele Oyawale, explained that the agency on Monday, November 13, 2023, arrested five suspects at a residential inn and Disney Chicken Eatery in Barnawa, Kaduna, following credible intelligence about their alleged internet-related fraud activities.
According to him, the suspects, identified as Favour Itung, Rachael Ande, Zuleiman Haruna, Abubakar Ismaila, and Solomon Olobatoke, were arrested without incident.
Oyewale further noted: "After the sting operation, six military personnel who witnessed the operation at Disney Chicken Eatery stormed the Kaduna Command and attempted to forcibly release the arrested fraud suspects. They were subdued and detained over the security breach.

"The intruders are four Air Force personnel, Lawal Abdullahi, Chukwuma Chidi Christian, Alfa Suleiman, and Emmanuel Ekwozor, and two students of the Nigerian Air Force Institute of Technology (AFIT), Chidera Anuba and Joseph Tokula.

"While in detention, there were inter-agency communication and discussions by the leadership of EFCC and NAF to resolve the issues.

"Unfortunately, dialogue on the release of the combative Air Force personnel broke down on Friday, November 17, 2023, when some unruly NAF officers stormed the Kaduna Command in commando-style to forcefully release their detained colleagues."
He said the commission, in the face of obvious provocation, exercised restraint and released the officers to the NAF Provost after they were duly profiled.