Nigerian Policemen, Soldiers Fight In Public Over Traffic Violation, Assault On Policewoman In Ekiti (Video)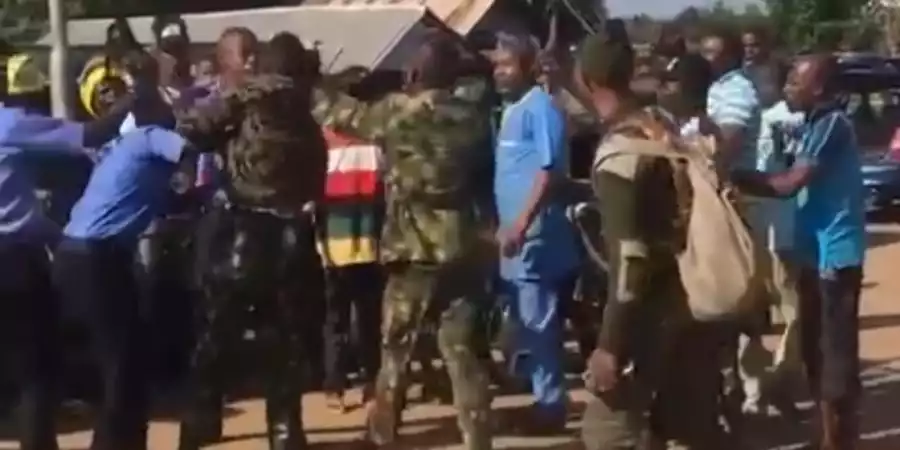 Chaos erupted in Ikole Ekiti, Ekiti State, during the week when two soldiers and several policemen clashed over an alleged breach of traffic regulations.
SaharaReporters reports that the soldiers who drove a motorcycle against traffic were stopped by a female police officer.
However, the army personnel reportedly insisted on being allowed to pass despite taking their wrong-way driving (contraflow driving), leading to an argument between the policewoman and the soldiers.
The verbal confrontation however degenerated into a fisticuff, and the female officer called for backup.
A viral video seen by SaharaReporters shows some armed policemen beating an unarmed soldier for allegedly assaulting the policewoman and tearing her uniform.
Sunday Abutu, Ekiti police spokesperson confirmed the incident.
He added that the two soldiers involved had been arrested and were undergoing investigation.
"Meanwhile, it's a case of violation of traffic order and serious assault on a policewoman who was performing her lawful duty at the traffic by the two soldiers," Abutu told SaharaReporters.
"The two military private officers who were on motorcycle were cautioned by the policewoman after they reluctantly passed through one-way traffic. The caution provoked them and they decided to pounce on the policewoman and assaulted her, got her injured and tore her uniform.
"It took the effort of some civilians around to stop the soldiers from escaping before the police reinforcement arrived."
There is a history of clashes between police personnel and soldiers in Nigeria.
In 2022, a police officer was beaten to death by soldiers.
The soldiers who were all attached to the Army Ordinance Corps of the 81 Division Nigerian Army based in Ojo, descended on two policemen and beat them up badly, leading to the death of one of them.
The Nigerian Army in 2021 accused police officers of killing and brutalising some of its personnel.
In a letter dated November 23, 2021, to all formations and units, the then-Chief of Army Staff called on military officers to "forward all recorded incidence of police brutality against personnel of the Nigerian Army."
The letter exclusively obtained by SaharaReporters was signed by Major General J. A. Ataguba and titled, 'Evaluating Incidences Of Police Brutality Against Personnel Of Nigerian Army.'
"The NA is constitutionally tasked to provide aid to civil authorities when called upon. This responsibility has occasioned conducting joint activities with members of the civil and paramilitary organizations. These joint operations with other security agencies particularly the Nigerian Police (NP) create occasions for the police to equate its hierarchy with the NA and this has often led to friction, especially at the lower levels," the letter had read.
"This friction has occasionally led to bodily harm and in some cases death to our troops. This is in spite of the fact that the victims have been identified and established to be serving personnel.
"This Dept is therefore conducting an evaluation of these occurrences with a view to establishing the frequency and recommend possible remedial measures to stem the tide.
"Consequently, all NA corps, formations and establishments are please requested to forward all recorded incidence of police brutality against personnel of the NA.
"The report should cover the last 2 years. Returns to reach this NLT 8 December 21 and should be forwarded using enclosed formal."