Ex-BBNaija housemate, Jackye has just reacted to the disqualification of Tacha reality show. Recall that Tacha was disqualified for physical violence during a fight with fellow housemate, Mercy.

According to Jackye, 'when I said she's a walking time bomb you all trolled me.Now, she didn't see the 99th day she always wanted. Anyways I wish her all the best and I hope she becomes a better person'.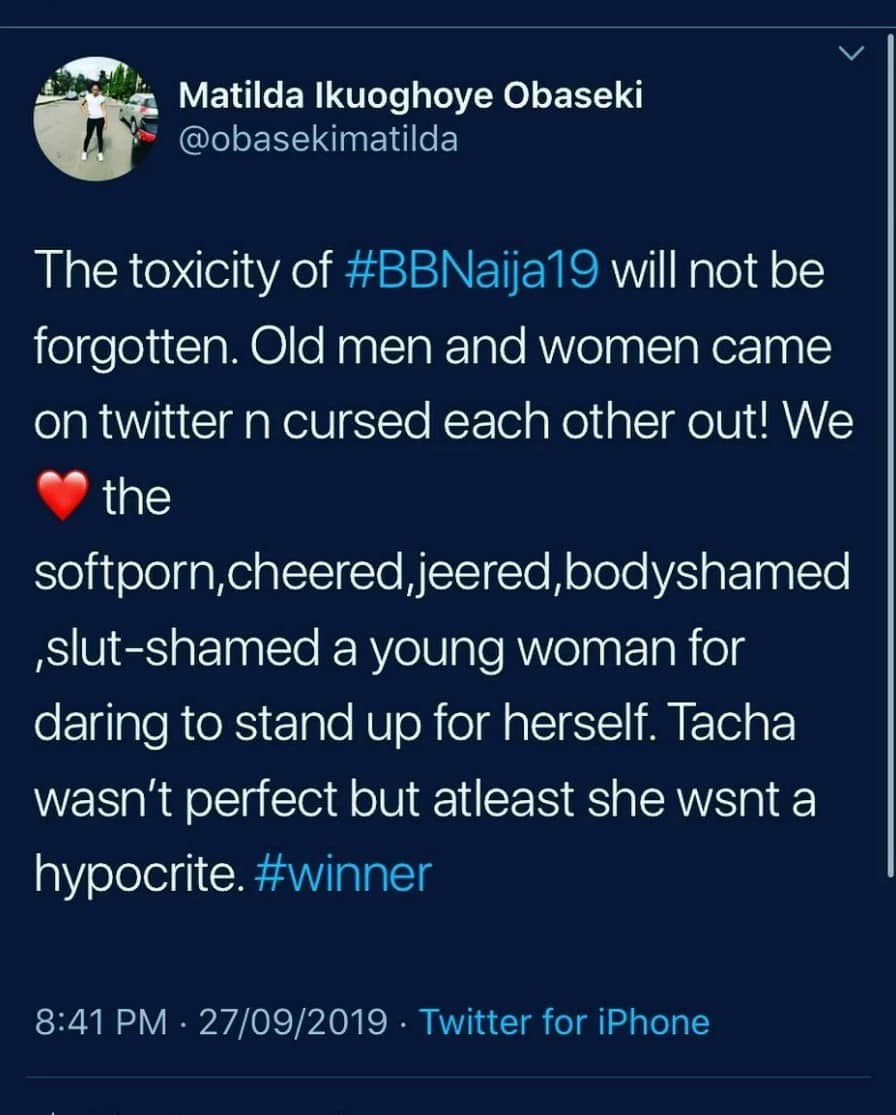 It should be recalled that while she was in the house, she'd somewhat accused Tacha of being fetish and as a result, they never got along in the house.
As the rest of Nigerians are not necessarily fazed by the news, save her fans, the software engineer also doesn't seem surprised as she says she saw it coming and she wishes the best for her as she leaves the house.In line with the reactions from Tacha's fans, with regards to her disqualification from the house, Nollywood actress, Matilda Obaseki has also defended Tacha from critics.
The former Tinsel Actress stated that Nigerians are all hypocrites, and most of them felt so free to attack and troll a person whom they haven't even met in person, all because of the toxicity of the Big Brother show.
She also said that most people hated on Tacha because she's a strong woman and they couldn't break her.
Her post on twitter reads ;
'The toxicity of BBNaija19 will not be forgotten. Old men and women came on twitter n cursed each other out! We the softporn,cheered,jeered,bodyshamed,slut-shamed a young woman for daring to stand up for herself. Tacha wasn't perfect but at least she wasn't a hypocrite'.