Adams Oshiomole's suspension from APC has created a room for commotion among colleague party members as they fight for the position of party chairman.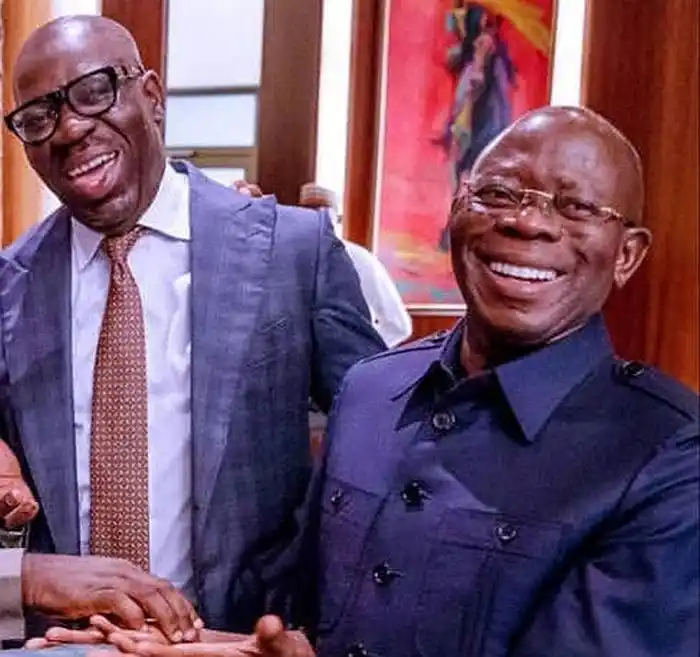 With governor Godwin Obaseki on the cards to he replaced as the new chairman, two ranking members of the party have already declared themselves the new chairperson of the ruling party.
Apparently, former Oyo State governor, Abiola Ajimobi had been elected as the acting national chairman of the party by the National Working Committee (NWC) following Oshiomole's suspension.
The election of Abiola Ajimobi didn't last long as Chief Victor Giadom, the Deputy National Secretary of the party enstooled himself as the new acting chairman of the party, rendering Abiola's election as bogus.
In view of the commotion between the two camps, neutrals are looking into bringing in Oshiomole's arch rival, Godwin Obaseki to replace him as the acting chairman of the ruling APC party.
A source close to the neutrals said:
"Oshiomhole had been the stumbling block and he is out of the equation for now.…We strongly feel that we have to work for our colleague, Governor Obaseki who did nothing wrong…Now that he is gone, even those who claim to be national leaders or whatever have been checkmated.
"Governors would have their way because they are with the people at the grassroots.
"They would not allow the interest of few individuals to hold Nigeria to ransom,"