Liu Xiaoming, China's ambassador to the UK ha said his country is a "victim" of the coronavirus pandemic, and denied claims of a cover-up.
President Trump has repeatedly accused China and the World Health Organisation of hiding information when the virus first came to light and preventing other countries around the world from being prepared.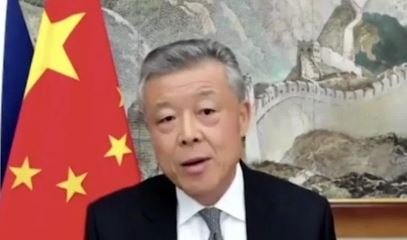 But the top diplomat clamped down claims of a cover-up and denied the FBI's claim that Chinese hackers targeted US medical institutions researching vaccines.
He insisted the COVID-19 outbreak was not China's fault and promised a "transparent" inquiry into the origin, but "not now".
He told Sky News:
"You can't have this campaign of stigmatizing, disinformation and smear against China, as some American politicians are doing."
He added:
"It is not OK to say the virus originated in China, it is a matter of science. "It is up to the scientists not for you, me or politicians. "You can't blame China.
China is a victim, China is not a culprit of this virus. "It is not a man-made virus, it is natural in origin so we have to adopt a scientific approach."
Mr Liu also said China would welcome an investigation into the outbreak in Wuhan, provided it was not "politically motivated".
He insisted:
"We are open, we are transparent, we have nothing to hide, we have nothing to fear. "We welcome an international independent review but it has to be organised by the WHO.
It should be international."
Asked if Beijing would give access to international scientists, the diplomat said:
"Yes of course at an appropriate time, but not now."
When Sky News' Mark Austin then asked if he would admit the world doesn't trust China because of its handling of coronavirus.
The top diplomat replied:
"There is not any cover-up up at all. We shared information with the WHO and the world without delay and we notified the United States from the very beginning on January 13."