The task facing Nigeria's economic managers will get even more daunting after a poll of economists suggested that Africa's largest economy would shrink by at least 8 percent in 2020 as a result of a contraction inflicted by coronavirus.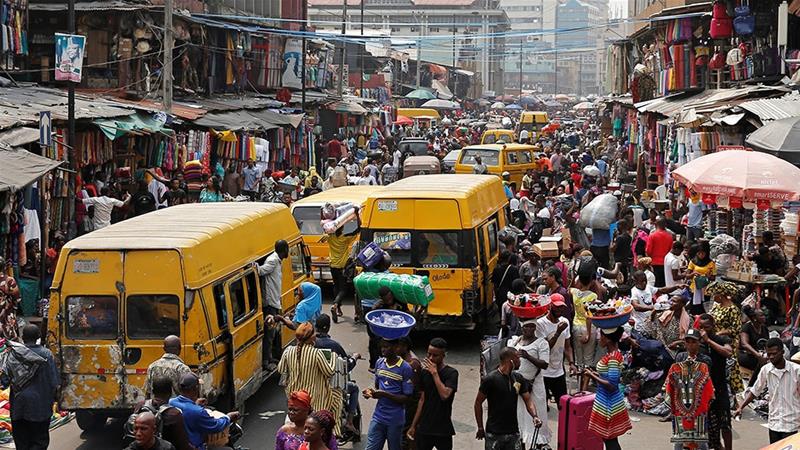 The initial forecast by the IMF was for a GDP slump of just under 4 percent, but emerging trends, say the economists, mean Nigeria's economic recession will be worse than first thought.
Receipts from oil, mainstay of Africa's most populous nation, has virtually evaporated with close to 80 million barrels of Nigerian oil floating aboard ships in international waters without buyers.
Even non-oil exports including agricultural products are piling up in farms and warehouses across the country as faltering demand and new health regulations slow down shipment from the Lagos ports.
On Tuesday, Bloomberg reported that health protocols just introduced by Nigerian authorities to curb the spread of the COVID-19 disease have delayed cocoa exports, leaving at least 30,000 tons stranded at the Lagos port and in warehouses in Nigeria.
Under new rules introduced by Nigeria's shipping regulators, crews of vessels entering the country's waters are required to observe a mandatory 14-day quarantine period before they can discharge their goods or take up fresh cargo, according to Muftau Abolarinwa, president, Cocoa Association of Nigeria, which groups farmers, traders and processors.
Nigeria has received approval for a $3.4bn lifeline from the International Monetary Fund (IMF), but economists say the credit support is far short of what the country requires to get out of the fiscal bind that it has found itself.
"The sum of $3.4bn sounds like a large amount of money but it is roughly 1-2 percent of Nigeria's GDP. It is not enough to solve our fiscal challenge," said Mustapha Chike-Obi, former CEO of AMCON.
The Wall Street journal calls Nigeria's oil-induced fiscal crisis existential, but so far senior government officials including some ministers are resisting the vital reform measures Nigeria badly needs to rebuild.
"Cargo ships full of millions of barrels of Nigerian crude have nowhere to go, with much of the world on lockdown. Nigerian oil companies are desperately competing to fill the last few empty tankers," the newspaper reported.
The government of President Muhammadu Buhari recently abolished the cash-guzzling petrol subsidy and he has ordered the implementation of the Oronsaye committee recommendation for a drastic cut in the number of the country's MDAs, but economists say he has to do more to save the economy from total collapse.
"There is a battle going on for the soul of Nigeria," said economist and investment analyst Clarke Huntingfield. "There are those in government in Nigeria who do not see the big picture because of their parochial pursuit, and it is why purposeful leadership at this time is even more critical. Nigeria cannot afford to be borrowing and then failing to rebuild the economy."
Analysts say Nigeria requires a well thought-out programme to sell down its equity in oil joint ventures; adopt the NLG model; and sell or concession the extensive products pipeline and depots that leak up to 50 percent of imported petroleum products that are pumped through them.
However, there are powerful forces in government defending the status quo and who have sought to create the impression that those pushing for long-delayed reforms were less altruistic than Nigerians defending the status quo, including continuation of the over-bearing state control that has virtually suffocated economic growth.
Nigeria's economic woes predate the coronavirus outbreak, according to Cambridge University-trained economist Ayo Teriba.
"Nigeria had been in search of ways of stemming the economic decline before COVID-19 pandemic forced the country. Unfolding global realities now give Nigeria a chance to leverage its vast public assets to raise external liquidity thresholds enough to switch from contraction to expansion by adopting securitisation privatisation, liberalisation, commercialisation policies.
Global liquidity glut has seen capital inflows to developing countries double in the last decade and Nigeria is well-placed to get a share of that," Teriba said.
"At well below 10 percent of GDP since 2015, the total revenues available to the three tiers of government has fallen so low that they do not cover even recurrent spending threshold of fiscal liquidity, as salaries and debt service each amounted to about 70 percent of Federal Government revenue in 2017, and deficits had to be incurred to meet both in full, with additional borrowings to meet shrinking overheads and a small and contracting capital spending. With less access to debt markets, many states were known to have been unable to meet salary obligations in full, creating unpaid arrears of more than 12 months in a few states," he said.