The doggy position is the go-to sex position for a lot of couples.
For most guys, it offers an incredible view and control over the speed and depth of penetration. And for women, it's an opportunity to surrender and just enjoy the action, which includes lots of opportunity for G-spot stroking.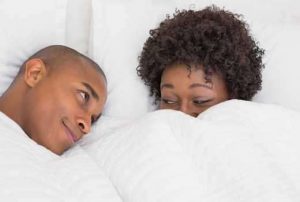 1. Sandwich
Lie on the bed flat on your stomach with your legs closed. Have your partner lie on top of you with his legs outside of yours as he enters you from behind. This position is less about thrusting and more about connecting with your partner. Having your legs closer together offers tighter friction, which will make it more enjoyable for you.
2. Spooning
You and your partner should lie down and turn somewhat on your sides—but not so much so that you're in the side-by-side sex position. You play the little spoon, while he's the big one. After he enters you, he can hold you close in his arms and kiss your neck, triggering goosebumps and shivers of desire.
3. The rear view
When you're in the typical doggy style pose, turn your neck so you connect visually and look into his eyes as he thrusts. And sometimes we're so afraid of eye contact because looking at each other makes us vulnerable. But when you two look at each other, your breathing is more likely to sync up too and perhaps your orgasms as well.