With the increasingly growing rate of upcoming musicians, we at Waploaded are now putting the control in your hands.
This new intervention has now made it possible for you to Upload song on waploaded via your Waploaded Dashboard, Top up your Waploaded wallet, Contact admins or wait for admins to review and approve your posts/uploaded song, and even go the extra to purchase further promotion plans like making your post a featured post or song of the week, and all in all you can track the stats from the number of airplays the song is getting to the number of download and comments on the post.
Steps to Upload Your Song on Waploaded
Note: We charge NGN10,000 (aprox. $30 usd) to upload songs on Waploaded
First Step: Registering or Login in to your Dashboard.
You must be a registered or logged in user to post songs on Waploaded, if you have not registered on Waploaded, Learn how to register or log into your Dashboard if you already have an account.
Second Step: Fund your Waploaded Wallet.
Since you do not want your song to be deleted by Admin and all the stress of creating and uploading the song futile, make sure your wallet is funded with minimum of NGN 10,000. Learn how to fund your wallet, and hit the next step. If you experience any difficulties in funding your wallet, please email ads@waploaded.com
Third step: Upload the Song.
After fulfilling the first and second step, you are then mandated to upload the song, before then here are the benefits of uploading the songs by yourself.
You can Track plays

You can Track Downloads

You can Add lyrics anytime

You can delete and update the song

You can track those commenting on your songs

You can request to Make your song Featured or Song of the week.

and even more..
So, this is how to Upload your song.
After login to your dashboard Click on the Navigation Menu, under Posts click on Draft Post, you would be sent to a compose box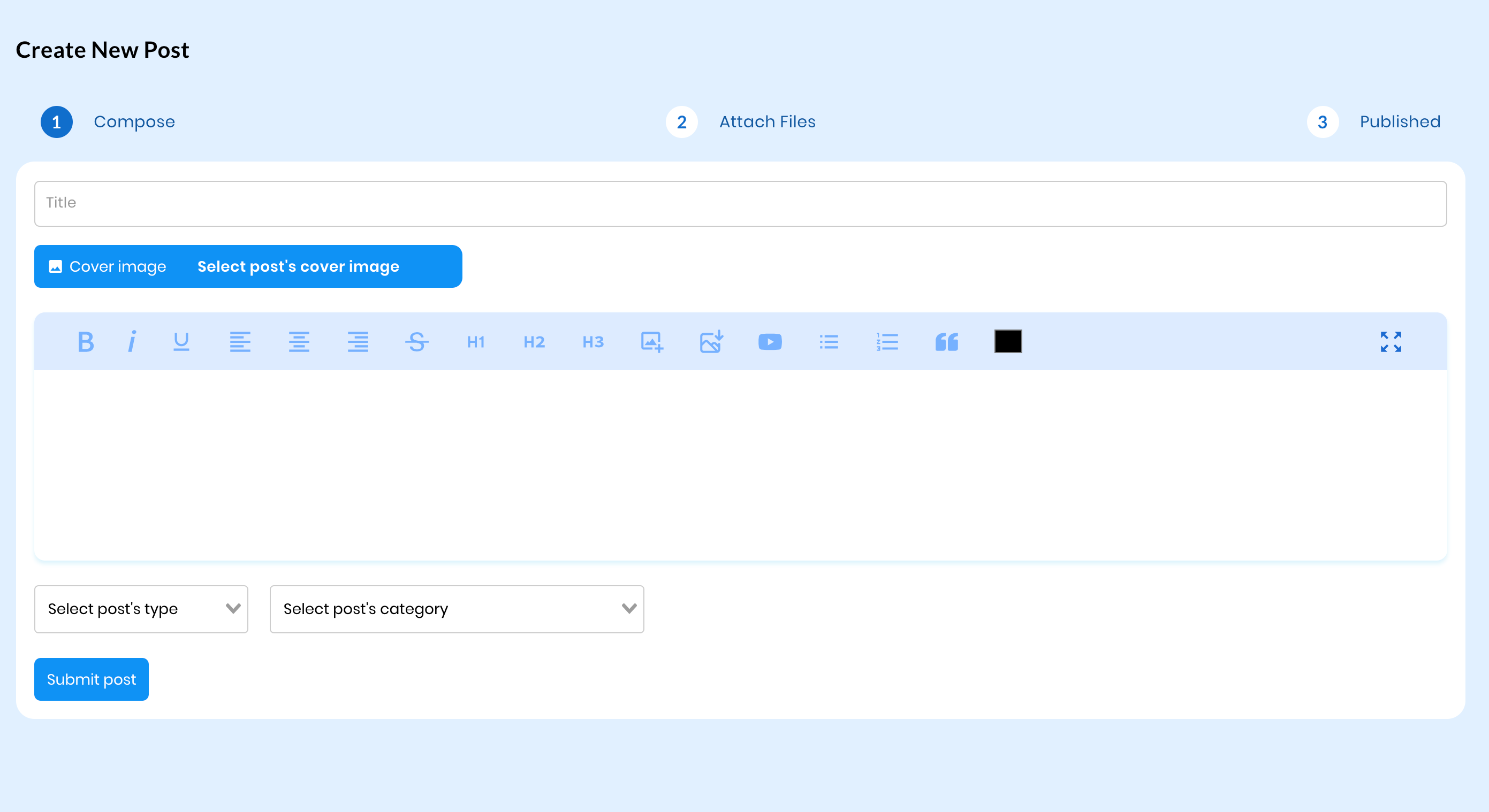 Type in your Post Title e.g "Blessed Gabby - Dey with You" (artiste name - song title)

Cover Image: Select the image cover of your song

Description e.g About you, your song, producer, and everything we need to know about the song

Select the exact Post Type (Music) & category for the post (Music New talents)

Then click Completed..

Adding the Song Upload itself

After completing above step, you would then proceed to attach a file, click Attach Audio.




Select the audio tab, then click upload new audio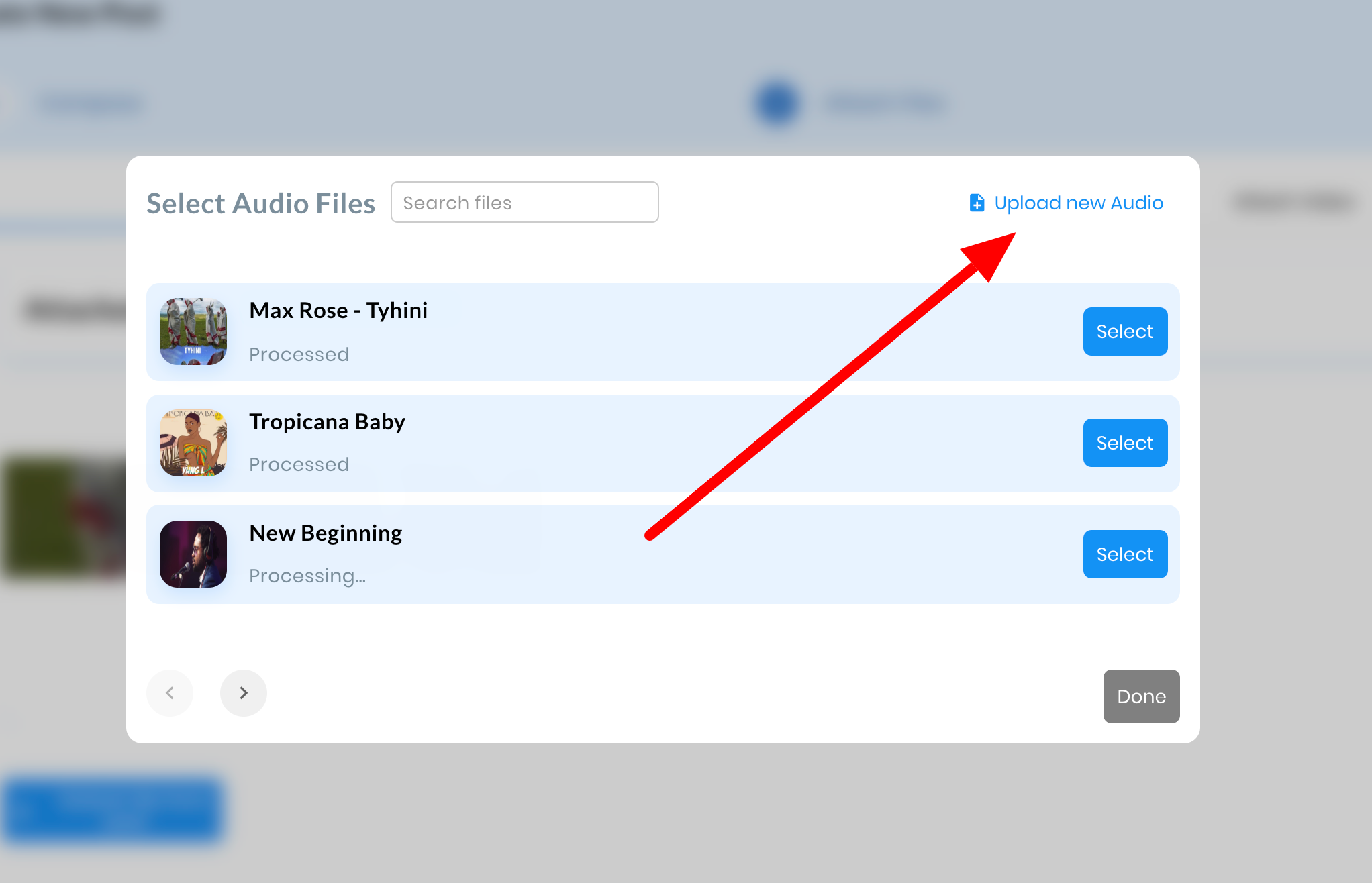 An upload modal pops up, fill the corresponding details using below examples.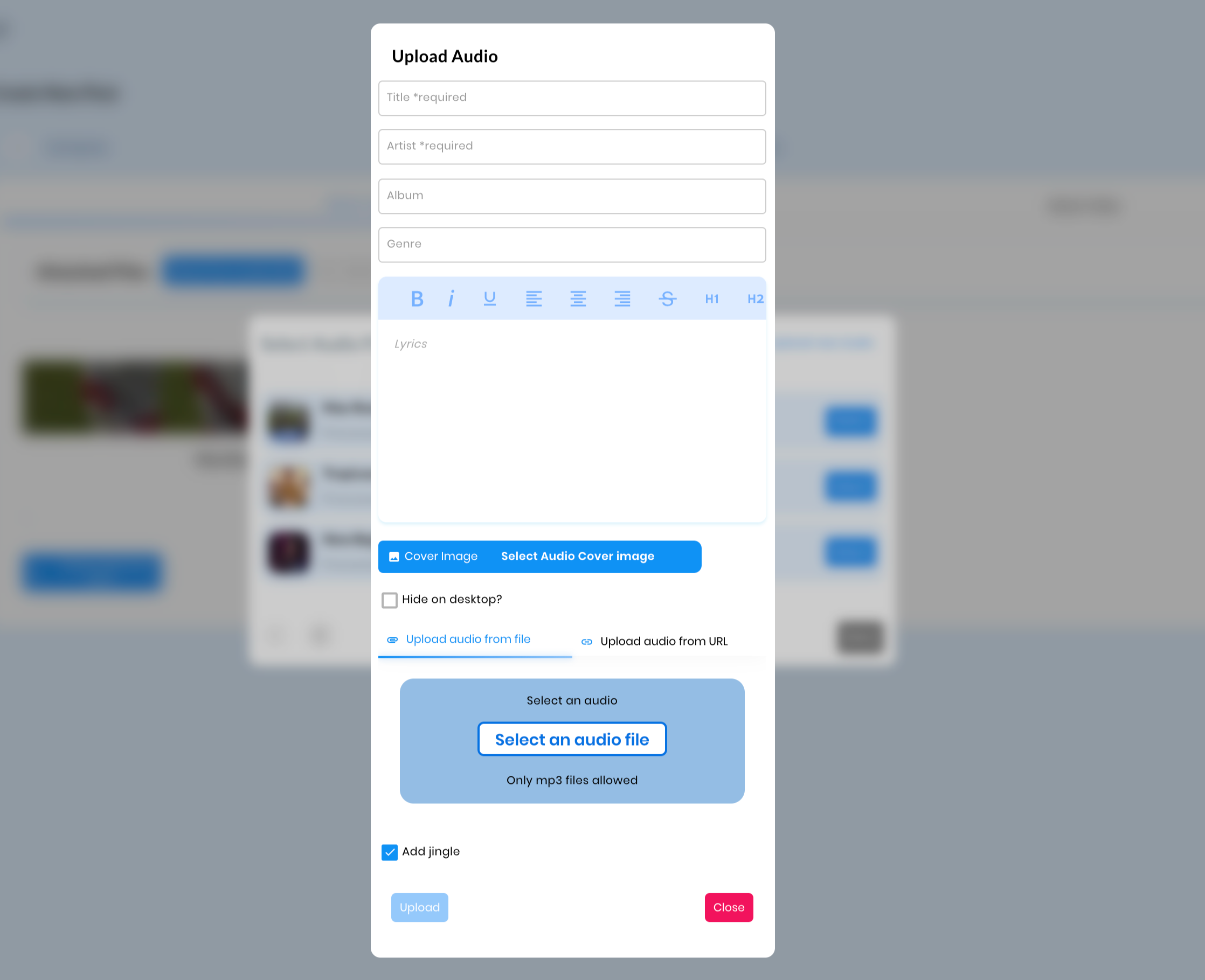 Title: ex. "Davido - Risky"

Artist: ex. "Davido"

Lyrics: Leave empty if not available

Cover Image: Select same image used for the post

Audio File: Select from file your local storage

Process Audio: "Another Hit Jam from Waploaded.com"

then hit upload.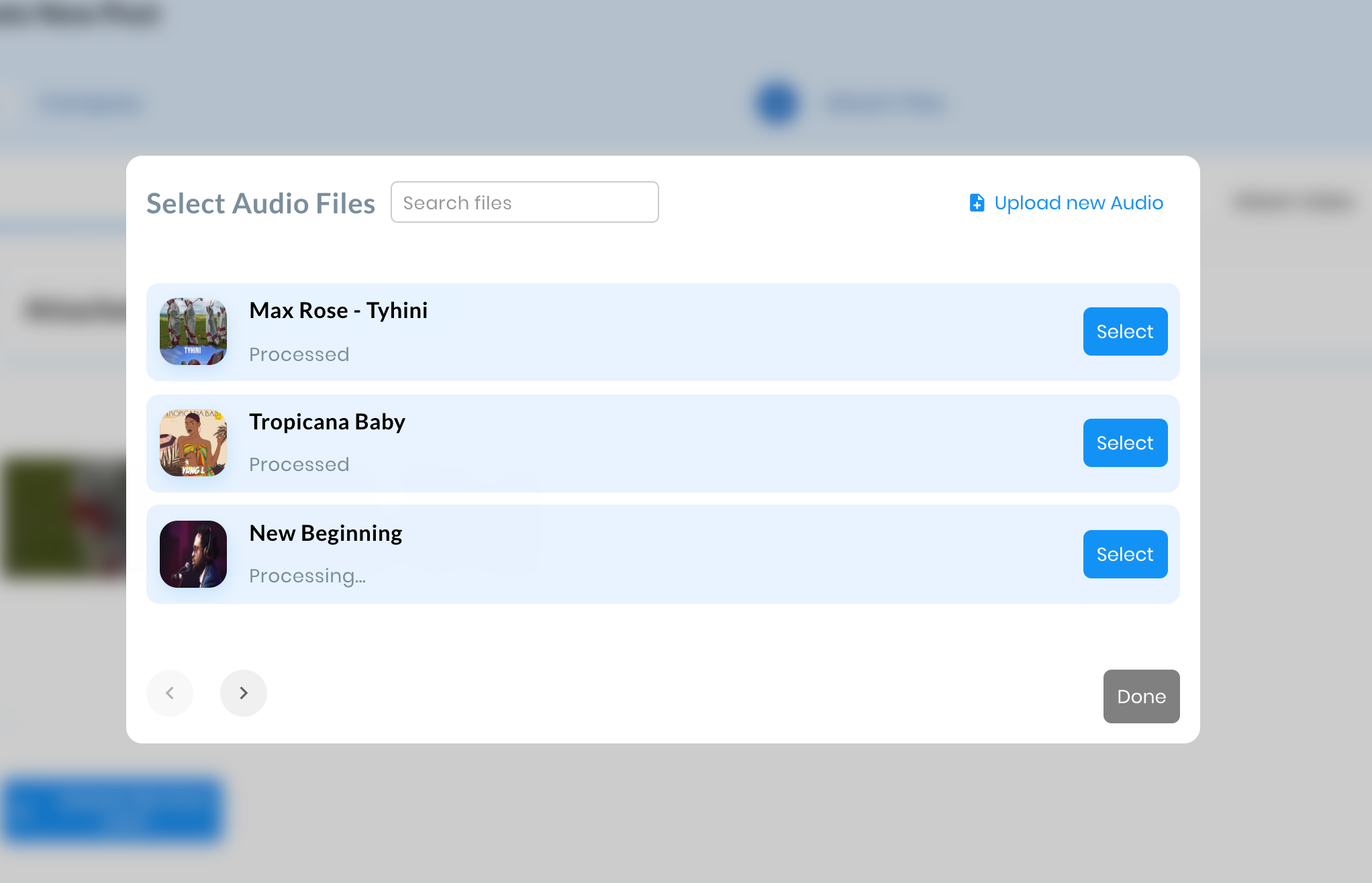 the file status would likely be Processing, select it, then click Done

Fourth Step: Contact Admin or Wait for Admin to Approve it.
After completing step 3 above, your song would be marked as pending, and would not be available anywhere on the website, you then may need admin approval to get your song out and across our social platforms.
For speedy approvals, after making payments you are to email admin for faster approval, kindly email music@waploaded.com and we would be right there to further assist you, if there are any corrections required in the post, admin will make them and let you know.
Once all these are done, your song would be LIVE on Waploaded in less than seconds.
Watch Video Below to learn how to Upload
Frequently Asked Questions about song Upload
1: Can i sell my song on Waploaded?
No, you can not sell your song yet, in the future, we plan to enable song sales but for now after uploading and approving the song would be available free on Waploaded
2: What is the benefit of Uploading on Waploaded?
The benefits are enormous, since Waploaded is a music website, other music lovers gets to play, enjoy your songs, you get more popular, people follow you on social media and you get noticed by record labels too.
3: How long would my song be online?
Your song would remain on Waploaded forever and ever, it won't be promoted and it will still be getting downloads which you can track on your dashboard.
3: How many Downloads would my song get?
The amount of downloads and plays your song gets is totally based on how its being pushed on Waploaded interface, you cannot compare just an uploaded song, to a song that was featured across the whole Waploaded website and also made SOW (Song of the week). With this in place and an extra promotion via all our social handles your song would be gearing for thousands of downloads and plays in the shortest period of time.
4: What other Help can i get from Waploaded?
With our monthly Waploaded New Skool Mixtapes and other Monthly Waploaded Mixtapes by top and respected DJs, we chip in upcoming artistes songs there, and with that they get more exposure and plays.
5: After uploading on Waploaded What next?
After uploading on Waploaded, we can offer you easier and more flexible promotional kits, like Uploading on Itunes/Spotify/Boomplay, setting up an artiste Bio page on Waploaded and lots more.
What are your waiting for? Remember, a good song is worth a good promotion
We will be waiting to server you better and support you to achieving the aim of uploading your song.