SportFootballPremier League
Why Arsenal, Man Utd and Chelsea can expect a happy Boxing Day, but it could be bad for Leicester

Research shows which sides and managers enjoy the festive period the most
Simon Rice @simonrice Friday 25 December 2015 10:46 BST

Arsenal manager Arsene Wenger Getty Images
Arsenal, Manchester United and Chelsea can expect a positive result on Boxing Day, according to research. However, current Premier League leaders Leicester City may not be feeling so jolly after tomorrow.

The most successful Premier League manager the day after Christmas is Arsenal's Arsene Wenger. The Frenchman has an incredible win ratio of 75 per cent on Boxing Day.

Things also look good for Manchester United and Chelsea. Those two clubs have both won their last three fixtures on Boxing Day - a trend Louis van Gaal and Guus Hiddink will be desperate to continue this year. Manchester United can also boast of being the most free-scoring side - with an average of 2.71 goals per game. They're ahead of Arsenal (1.83), Man City (1.8), West Ham (1.8) and Liverpool (1.75).

Leicester City, currently two points clear at the top of the table, may have cause to be concerned though. Their manager Claudio Ranieri has never won a Boxing Day fixture.

Newcastle and Everton fans may also be justifiably worried - their managers Steve McClaren and Roberto Martinez have win percentages of 20 per cent and 17 per cent respectively. Meanwhile Aston Villa are the football equivalent of the Grinch – they've lost every one of their last three Boxing Day fixtures.

Hoping to bring some festive cheer to Stoke and West Brom respectively are Mark Hughes and Tony Pulis, who enjoy the second and third best win percentages among the Premier League manager on Boxing Day of 58 per cent and 50 per cent respectively.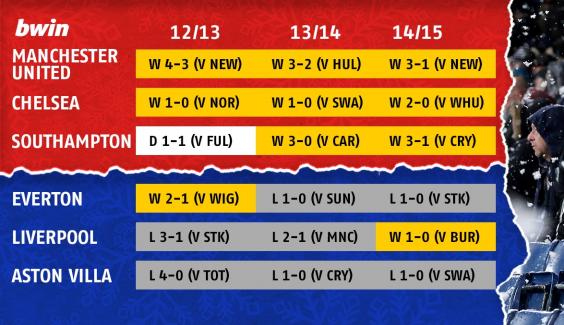 Premier League festive fixtures (3pm kick-off unless otherwise stated)...
26 December: 12.45pm: Stoke City vs Manchester United, Aston Villa vs West Ham United, AFC Bournemouth vs Crystal Palace, Chelsea vs Watford, Liverpool vs Leicester City, Manchester City vs Sunderland, Swansea City vs West Bromwich Albion, 5.30pm: Tottenham Hotspur vs Norwich City, 5.30pm: Newcastle United vs Everton, 7.45pm: Southampton vs Arsenal