The Argentine is now level with the Real Madrid icon on 71 strikes in Europe's premier club competition, but which of the two has had the greatest impact on the tournament?

By Ben Hayward & Kris Voakes

Both players are synonymous with the Champions League. Raul Gonzalez won three titles with Real Madrid between 1998 and 2002, while Lionel Messi has also claimed the coveted trophy thrice in his career at Barcelona.

Raul was just 20 when Madrid beat Juventus to win their seventh European Cup crown (their first in the Champions League era) in 1998. The first in colour, as it is often described in Spain, following previous triumphs in 1956, 1957, 1958, 1959, 1960 and 1966.

The striker then scored a memorable breakaway goal in the 3-0 final win over Valencia in 2000 and added another as Madrid claimed the title again in 2002 with a 2-1 victory over Bayer Leverkusen. And en route to those triumphs, there were also crucial strikes against more of Europe's elite, such as Bayern Munich and Manchester United.

Messi, meanwhile, was still a teenager when Barca were proclaimed champions in 2006 and sat out the latter stages after picking up an injury against Chelsea earlier in the competition.

Nevertheless, the Argentina attacker played a starring role in the 2009 win as he headed home the second goal to seal victory for Barca over Manchester United and Cristiano Ronaldo in Rome. And two years later, he put Sir Alex Ferguson's side to the sword once again with a superb strike in the 3-1 Wembley win.

Now with 71 goals apiece in Europe's premier club competition and also three titles each, both players have made an indelible impact on the Champions League. But which of the two is the tournament's bigger legend? Here, two Goal writers go head to head on the matter ...
[ads4]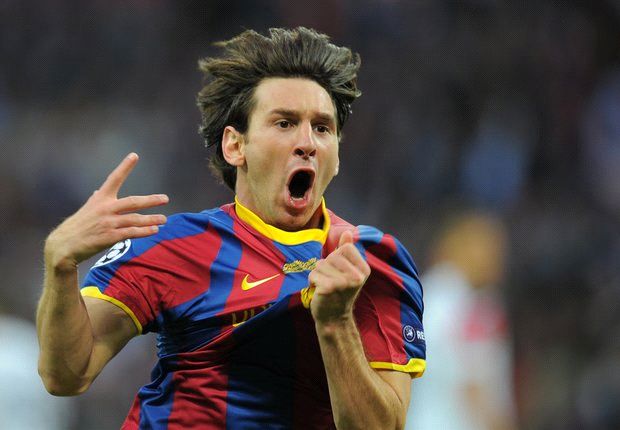 When his playing days are over, Lionel Messi will be remembered for so many magical moments in a Barcelona shirt - but the Argentine attacker always seems to save his very best for the Champions League.
Although not a pivotal part of Barca's win in 2006, the forward made the world sit up and truly take notice in 2009 as he headed home his side's second against Manchester United in Rome. Before that game, the talk had been focused on his duel with Cristiano Ronaldo. The Portuguese, many believed, was the more complete player - yet it was the Argentine who won the match with a rare and brilliant header past Edwin van der Sar.
In 2011, his contribution was even greater. Drawn against Real Madrid in the semi-finals, Messi silenced the Santiago Bernabeu with both goals for Pep Guardiola's side in a 2-0 win and the second is considered by many his best Barca goal as he dribbled past several players before slotting superbly past Iker Casillas.
In the final, he followed up with another special strike as he hit home from long-range against Manchester United in the 3-1 Wembley win to seal a third title for the Catalan club in the space of five seasons.
But that's just the tip of the iceberg. His fantastic four-goal show against Arsenal in 2010 saw him decribed as a "Playstation" player by Arsene Wenger, while his five versus Bayer Leverkusen in 2012 is a competition record and he is also the only player to have hit four hat-tricks in the Champions League.
So while Raul's role in Madrid's success was important, Barca's success in the Champions League under Pep Guardiola would have been unthinkable without Messi.
"Without Leo we would have been competitive," Guardiola once said. "But we wouldn't have been able to achieve all that we did."
That is certainly true and at the age of 27, the Argentine is set to smash Raul's record (along with Cristiano Ronaldo, who is on 70 strikes in the competition) if he stays at Barca for the coming campaigns.
Raul is a Champions League legend, but Messi is on another level.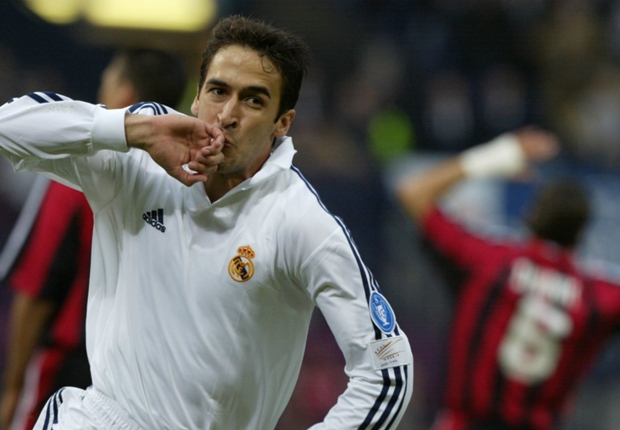 In time, Lionel Messi may well become the undisputed king of Champions League football. After all, time is very much on the 27-year-old's side.
But when you are in the midst of one generation, it is sometimes difficult to remember those of times gone by. With Messi and Cristiano Ronaldo having made a two-player duel of the modern game, the achievements of Raul have been belittled by many who forget just what an impact he had on European football.
At a time when the Champions League boasted far greater quality in opposition defences, Raul negotiated stars such as Paolo Maldini, Matthias Sammer, Jurgen Kohler, Roberto Ayala, Alessandro Nesta and Paolo Montero on his way to 71 goals over a period of almost a decade and a half.
Such fantastic depth in defences meant that Raul's career was one forged at a time when even the very best strikers were limited to 25 goals a season. Yet the 'King of Spain' was the star man of that Champions League era.
He was a goal hero in two of Real Madrid's three final wins between 1998 and 2002, but more than that he continued to find the net as times became tougher for the previously all-conquering Spaniards. The Decima which was eventually attained in 2014 became such an infamous target of the club's exactly because they'd fallen from such massive heights, yet Raul didn't fall one bit.
He was still scoring with as unerring regularity in his final Champions League campaign with Schalke in 2011 as he had been for most of his spell with Real Madrid. And he did so without any of the teams in which he played being built around him.
Not once between 2004-05 and 2009-10 did Madrid reach anything further than the round of 16, yet that didn't affect Raul's ability to find the net. Indeed, he became more of an all-round striker as his career went on.
It mattered not that he had gone from being served by Zidane, Figo, Redondo and Beckham to feeding off the comparative scraps supplied by Drenthe, Baptista and Diarra. Raul continued to develop as a forward, adding more guile to his previous persona as a poacher.
So Messi might be the star of a free-scoring generation, but Raul was the king when goals were far less easy to come by.