A positive atmosphere quickly turned sour when a group of violent fans clashed with police in the Argentine capital following the loss at the hands of Germany

Argentina's 1-0 World Cup final defeat after extra-time against Germany on Sunday has lead to riots in Buenos Aires.

Thousands of fans had gathered around the city's central Obelisk monument before the game to watch Alejandro Sabella's men take on Germany in a bid to win their third world title in history.

Initially, there was a celebratory atmosphere - even after Argentina were beaten following Mario Gotze's winner in extra-time - but things turned sour when a number of hooligans started throwing rocks at police.

[ads4]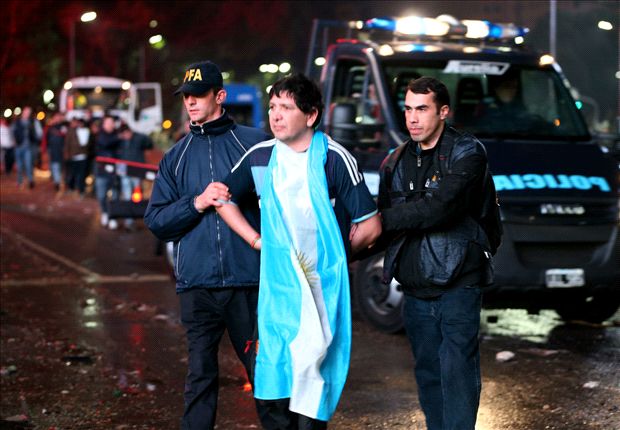 Local media then captured incidents of looting in central Buenos Aires as the situation got out of control later in the evening, with perpetrators damaging shop fronts and street lights in the city centre.
Parents and children could be seen fleeing the scene following the violent incidents and law enforcement was forced to use tear gas, water cannons and rubber bullets to restore order.
Close to 60 people have been arrested, with at least 15 police officers sustaining injuries during the riots.
Argentina are expected to receive a warm welcome when they arrive back in Buenos Aires later on Monday following their relatively successful World Cup campaign.